Chris Magnus, head of Customs and Border Protection, said the governor didn't coordinate with federal officials before he engaged in what the White House called a "publicity stunt."
The head of U.S. Customs and Border Protection criticized Texas Gov. Greg Abbott on Thursday for busing migrants from the southern border to Washington, D.C., without consulting with federal officials.
"Governor Abbott is taking actions to move migrants without adequately coordinating with the federal government and local border communities," CBP Commissioner Chris Magnus said in a statement.
Migrants from Colombia, Cuba, Venezuela and Nicaragua who had crossed the southern border from Mexico arrived by bus in the nation's capital Wednesday as "part of Governor Abbott's response to the Biden Administration's decision to end Title 42 expulsions," the governor's office said in a statement this week.
Abbott's office was referring to a recent announcement by Homeland Security Secretary Alejandro Mayorkas that the Biden administration would terminate the Trump-era public health rule known as Title 42, which the U.S. has used since the start of the coronavirus pandemic to prevent immigrants from crossing the U.S.-Mexico border to claim asylum, citing the spread of Covid.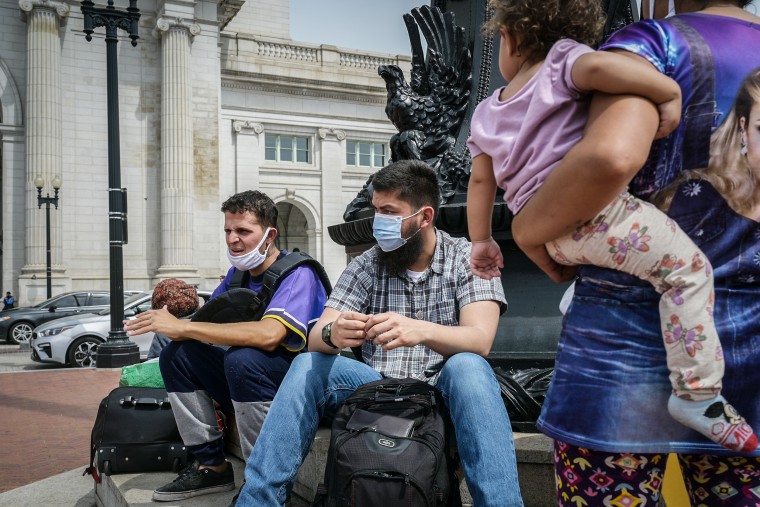 Migrants who were transported on a bus from Texas gather outside Union Station in Washington, D.C., on Wednesday.Craig Hudson for The Washington Post via Getty Images
The policy, which is set to be lifted May 23, has prevented more than 1.7 million attempts by immigrants to cross the border since spring 2020, and Homeland Security officials have warned of a potential surge of migrants after the policy is no longer enforced.